IMPACT CHURCH ST. LOUIS BIBLE STUDY PROGRAM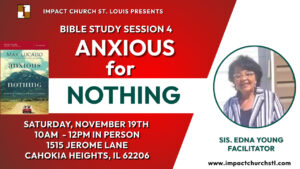 While anxiety is a part of life, it doesn't have to dominate your life. With God as your helper and his promises at your side, you can sleep better at night and smile more. You can talk yourself off the ledge and view bad news through the lens of God's sovereignty. You can discover a life of calm and develop tools for combating the onslaught of anxiety.
To register for this class click the link below: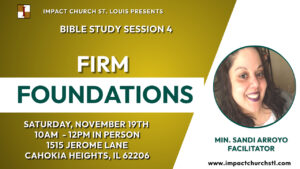 This is the class intended for those who have recently given their lives to Christ or anybody who wants a refresher on the basics of salvation, baptism, prayer, and more.
To register for this class click the link below: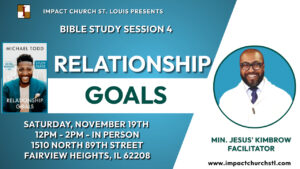 Wondering if you should break up? Feeling like you could break down? How about discovering a breakthrough in all your relationships and finding fulfilment like never before? This start-right-here study guide is based on Michael Todd's Relationship Goals take the targets you have for your relationship and adds the coaching you need to steady your aim. As you and your small group, friends, or significant other write, reflect, pray, listen and discuss your way through this guide, you'll discover the practical tools and strategic space you need to move your relationship from "We're okay" to "We're better than ever."
We're talking friendships, marriage, dating, even ideas for relating well to the person in the next cubicle. Because having strong relationship means having a strong purpose in life-and who doesn't want that?
So set your eyes on the goals that will help you win in relationships.
To register for this class clink the link below: