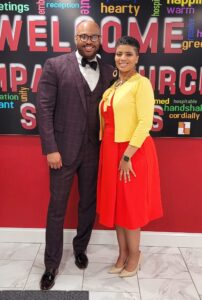 P
astor Ron A. Young serves as Founding Pastor of Impact Church St. Louis, serving the Metro East area in Cahokia Heights, IL.
Pastor Young is a native of East St. Louis, where he serves his community in many facets. Pastor Young's spiritual objective is to enhance the spiritual growth and knowledge of God's people in biblical training, cooperative education, and instructional application in ministry.
Pastor Young is a graduate with honors from Alabama A & M University with a Bachelor of Science in Mechanical Engineering Technology and he received his Masters of Divinity from Covenant Theological Seminary.
A passionate leader and game-changer within the community, Pastor Young and his congregation are leading efforts and expanding their footprint in the areas of juvenile justice, education, health awareness and addictions, and building bridges between citizens and law enforcement. Pastor Young supports many causes and is actively involved
• Founder of Member of the Brotherhood cultivating Christian education and evangelizing to the community, while supporting supreme activism and refuting heinous crimes and injustices with in our community.
• Chaplain–City of East St Louis
•Chaplain- City of Alorton
• Past St Clair County Chaplain
• Member of Kappa Alpha Psi Fraternity, Inc.
• Member of the East St. Louis Professional and Businessmen's Club
Pastor Young's most influential scripture is Psalms 27, which gives hope to the believer to wait patiently on the Lord for His will, strength and protection. His mantra is: "One who is the bearer of the truth must hold its mantle high in order to preserve its greatness!"
A devoted husband, Pastor Young, is married to Bianca Young and is the father of Kyndall Tolbert-Young and Karsyn Bailey Young.