CHURCH & COMMUNITY EVENTS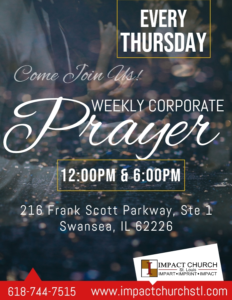 Weekly Corporate Prayer
Join us, every Thursday for Weekly Corporate Prayer at 12:00 pm and 6:00 pm at ICSTL Admin Office, 216 Frank Scott Parkway, Ste 1, Swansea, IL 62226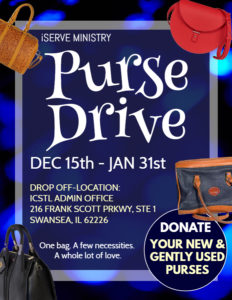 iServe Ministry Purse Drive
iServe is accepting donations of new & gently used purses for homeless women. Monetary donations accepted for filling the purses with hygiene products. Deadline for donations will be Friday, January 31st. For more information please see Sandi Arroyo or Karen Warr.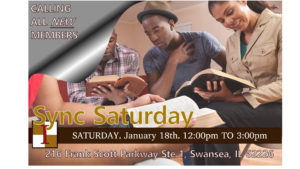 Sync Saturday
For all new members who recently connected to Impact, Sync Saturday session will start you on your pathway to discipleship and Impacting the World. Join us on Saturday, January 18th from 12:00pm to 3:00pm at our admin office and lunch will be provided. To register click on the flyer to reserve your seat today.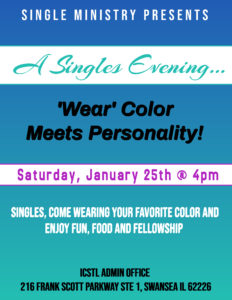 A Singles Evening
Calling all singles, join our Singles Ministry for, A Singles Evening… "Wear" Color Meets Personality! Saturday, January 25th @ 4pm
216 Frank Scott Parkway, Ste 1, Swansea, IL 62226.
Singles, come wearing your favorite color and enjoy Fun, Food and Fellowship.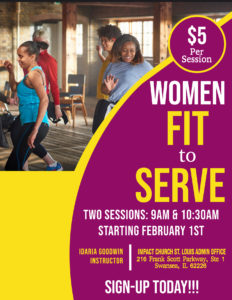 Virtuous Women Ministry
Women are you ready for "Fit to Serve". Join the our women's ministry starting, Saturday, Feb 1st at
9:00am – 10:00am or 10:30am – 11:30am, with dance aerobics Instructor Idaria Goodwin. The cost is $5.00 per session, payment is due upon registration. To reserve your sport for this event please sign-up in the lobby after worship service or clicking on the flyer.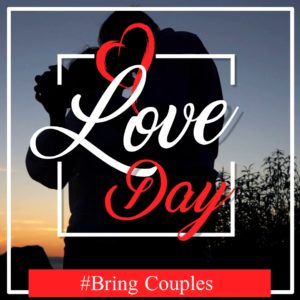 Impact Church St Louis Presents
"Love Day"
Sunday, February 9th please invite all couples to come and worship with us as we spread the love and importance of relationships on this day.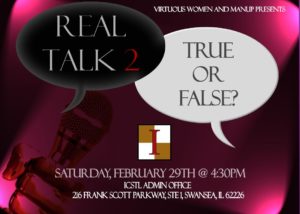 Virtuous Women's and ManUp
Real Talk Part II-True or False
Saturday, February 29th @ 4:30pm at Impact Church St. Louis Admin Office. To sign-up for this event please sign-up in the lobby after worship service or click on the link to reserve you seat today.