CHURCH & COMMUNITY EVENTS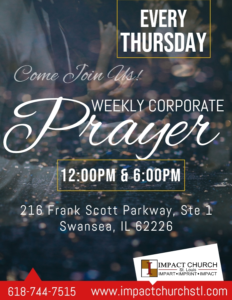 Weekly Corporate Prayer
Join us, every Thursday for Weekly Corporate Prayer at 12:00 pm and 6:00 pm at ICSTL Admin Office, 216 Frank Scott Parkway, Ste 1, Swansea, IL 62226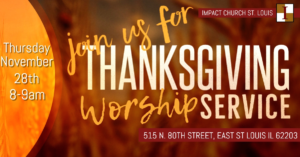 Thanksgiving Worship Service
Join us for Thanksgiving Worship Service on Thursday, November 28th from 8:00am to 9:00am.
Location: Impact Church St. Louis
515 N. 80th Street, East St Louis, IL 62203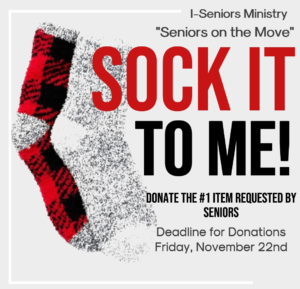 Sock It To Me!
Sock it to me! "Seniors on the Move", our senior ministry will be visiting Four Fountains Senior Center on Friday, November 29
th
. This will be their 2 year of singing, praying and sharing with other seniors. You can help by donating the number one item requested by the seniors, SOCKS! Please bring all donations on each Sunday and give to any member of the Senior Ministry or you can drop off donations at our Admin Office.
Deadline for donations is Friday, November 22
nd
.
Impact T-Shirts
Impactor's, it's t-shirt time again. Make your order today by clicking on the flyer. Once you have submitted your order, you can pay for it under our give tab. Deadline for orders will be Friday, December 6th.
Sync Saturday
For all new members who recently connected to Impact, Sync Saturday session will start you on your pathway to discipleship and Impacting the World. Join us on Saturday, December 7th from 12:00pm to 3:00pm at our admin office. To register for Sync Saturday, click on the flyer.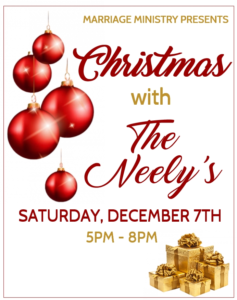 Christmas with The Neely's
The Marriage Ministry presents, Christmas with The Neely's on December 7th at 5pm. For more information please see Anthony & Trinas Neely.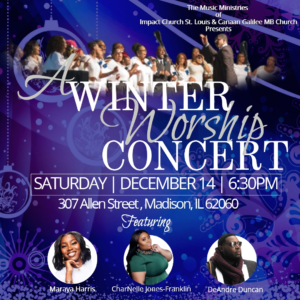 It's time to celebrate the Lord in song!!! Please join the music ministries of Impact Church St. Louis and Canaan Galilee Church in "Winter Worship 2019"! This concert is free and open to the public and will take place on Saturday, December 14th at 6:30pm at 307 Allen Street, Madison IL 62060. For more information please see our minister of music Jeremy Taylor Sr. or call the church office at 618-744-7515.