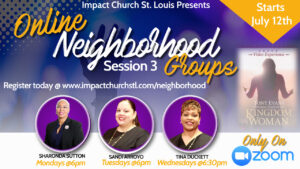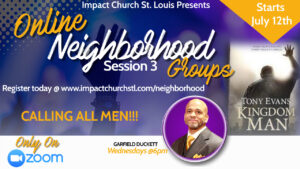 ICSTL is committed to building community within the church. ICSTL's version of small groups allows for each member to fellowship and study with other members in a more intimate setting. Neighborhood Groups are offered online via Zoom. Session 3 will begin on Monday, July 12, 2021. Register for your neighborhood group today! https://form.jotform.com/impactstl/2021-online-neighborhood-group-regi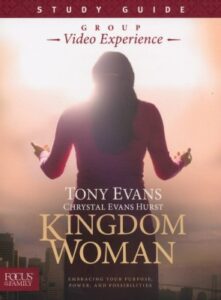 This study guide is a companion resource to the video small-group study based on the book
Kingdom Woman
which instructs every Christ-following woman on how to tap into the power of God as she finds and fulfills the purpose for which God has fashioned her.
A Kingdom Woman embraces a simple premise: unless a Kingdom rests firmly under the authority of the ruler, anarchy reigns. That's why a Kingdom Woman always seeks to align herself and operate under the authority of God―in every area of life. With practical insights and applications from coauthor Chrystal Evans Hurst, Tony Evans explains how that process can unleash new purpose, power, and possibilities―in both the lives of Kingdom Women and those they love.
This study is designed to empower men to exercise the God-given dominion they were created for by giving them a Kingdom understanding, vision, and perspective on their identity and responsibilities along with practical steps on how to become a man who rules his world well.
Our culture has redefined manhood by emasculating men through a repositioning of the role. Men are portrayed as weak, self-serving, and unfocused. The Bible clearly communicates that man was created to exercise dominion over the various areas of his life, taking responsibility for himself and others entrusted to his care. When a man functions within the principles of biblical manhood, those around him benefit from his leadership and care. This study challenges and equips men to fully understand their position under God, learning to operate under the authority of Jesus Christ.